Ouidad is an innovative line focused on the health of curly hair. Along with the proper shampoo, conditioner, and styling products, a deep conditioning treatment is also imperative for optimum curl performance.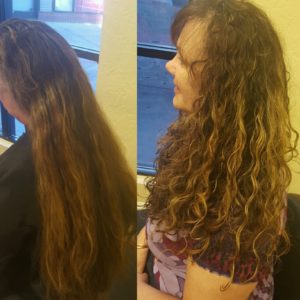 Deep Treatment Curl Restoration is the first Ouidad product ever, invented by Ouidad herself in her kitchen at home.
Ouidad Products
What sets this product apart is that most conditioning treatments only treat the hair at it's surface, Curl Restoration Therapy works at the cuticle layer of the hair to replenish the 8 amino acids and 2 proteins that are essential for optimum curl performance. It fights key factors that are detrimental to curls; dryness, loss of elasticity, and damage. This heat activated formula allows instant absorption of moisture, and rebuilds the inner layer of curls to reinforce their inner structure.
This professional treatment is most beneficial done in the salon once every 2-3 weeks. This is because it must be used under heat, rinsed AND conditioned again with another conditioner (Meltdown Extreme Repair Mask is best for this step).
Curl Recovery Meltdown Extreme is a clinically proven deep conditioning mask rebuilds lipid barriers and restores the protective layer of the hair in order to rebuild, nourish, and protect.The unique meltdown technology (its self warming!) opens the cuticle up to maximize penetration and absorb moisture. Meltdown Extreme is formulated with Ouidad's own CR-4 Repair Complex which is made with Mafura Butter and Kalahari Melon Seed Oil; nutrient rich ingredients that envelop and coat the hair to rebuild, nourish, and protect.
This mask can be used as a once a week treatment or and intensive deep conditioner. Because it is self warming it can be used at home or in the salon as an add-on to any service. It is great for all hair types, especially those with porosity issues.
Curl Immersion Triple Treat Deep Conditioner is a deep conditioner from Ouidad's newest line, Curl Immersion. Although it finds itself in the product line for Kinky Curls, it can actually be used on any curl/hair type that is in need of some serious nourishment, it will not weigh the hair down.
This ultra rich, moisturizing formula penetrates the cuticle to restore ceramides, which infuses curls with maximum moisture while also de-frizzes and softens the hair and helps to restore natural curl formation.
All of these treatments are excellent at addressing issues those of us with curly hair can face. Come see us at Salon Cartier and we can choose the perfect deep conditioning treatment for you and your hair.
Call us today at 925-939-7425