With the rainy weather we've been having in the bay area lately, many of us are finding that the humidity has a negative effect on our hair.
Humidity can cause frizz, unwanted extra volume, and sometimes a loss of curl or style causing hair to fall flat.
Ouidad has a line of products whose sole purpose is to combat humidity and frizz. The Climate Control line includes a shampoo, conditioner, and gel which all contain a unique Humidity Shield Complex.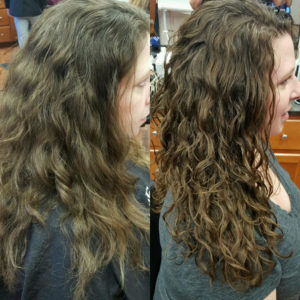 Climate Control Defrizzing Shampoo is a sulfate free shampoo that gently helps to protect curls and preserve color. A unique blend of moisturizers protect against heat and humidity.
The humidity shield locks in moisture and seals out frizz. To use this shampoo, start with a quarter size amount and work into the scalp with fingertips, be careful not to bunch up the hair or scrub too aggressively as this can cause damage or frizz.
Climate Control Defrizzing Conditioner is the second step to the climate control system. This is a lightweight conditioner that moisturizes the hair without weighing it down.
It contains amino acids that optimize internal weight and form a lightweight barrier that locks in moisture. If internal weight and moisture are not optimized curls will be poofy and frizzy and can create unwanted volume.
This conditioner works while the hair is still wet to fight frizz before it can start. To use this conditioner, apply to the lengths of the hair and comb through with a wide tooth comb to ensure even distribution. Leave in the hair for at least three minutes and then rinse.
The final product in the Climate Control line is the Heat and Humidity Gel. This is a very unique product that is designed to work with humidity instead of against it.
It's wheat protein and elastin polymers expand with moisture found in the air, which helps to preserve the hair's style. This gel works from the inside out to create a lightweight barrier with no stickiness or stiffness.
Curls feel natural and soft without losing their shape. The best way to use this product is as a "top coat".
Apply any other styling products you would like to use first, and then apply a layer of heat and humidity gel over the hair. You can also use this gel as a styler for Ouidad's "rake and shake technique."
One of the other great things about this gel is that you can use it for blowouts as well, it helps to maintain a blowdry and still and fight frizz in humid conditions.
This innovative line can be used on all hair types, and all curl types, making it the perfect product choice for rain or shine.
To learn more or to book your appointment, call us today at 925-939-7425.
*