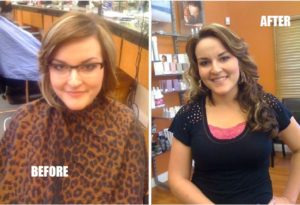 Hotheads Hair Extensions – Fabulous Hair in 1 hour or less. No heat. No damage.
Can be used up to 3 times for application and are made from 100% human hair
Application technique does not damage your hair with harsh chemicals or heat during your application!
Application takes only about 1 hour to complete!
Hotheads Hair Extensions are human hair, adhesive extensions that are applied without the need for tools or heat.
Hotheads Hair Extensions are uniquely designed to lay completely seamless and undetectable in the hair.
Manufactured with amazing quality human hair with the cuticle intact allows our hair to be reapplied up to 3 times, while still looking and feeling amazing.
Clients will get 8 to 10 weeks of wear from each application. Hotheads is an extraordinary revolution to the hair industry.
Hair Extensions are offered in 4 lengths and can be shaped to the look you always wanted in just one hour. Have the length or thickness you always wanted.
.
Book Your Consultation Today! Call Us Today: 1-877-908-5470