Here Comes the Bride! Are You Ready to Shine?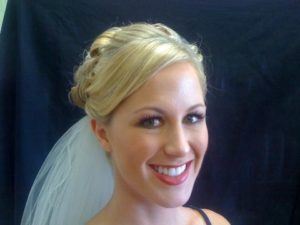 It's a big day and it's a big deal for you.
We get that.
Let us host your bridle party in our serene patio area while our staff is making everyone beautiful, that way they can sit and enjoy themselves. Yes you can bring in food and beverages on the day.
Our team at Salon Cartier loves creating the perfect looks for you and your guest on such an important day.
-You should arrive at the salon fifteen minutes prior to your appointment.
-If you are having your hair put up, it is very important that you come with your hair dry and not freshly washed. Hair that is too clean may not hold the style as well. If you feel the need to shampoo your hair, please do so the evening before your appointment.
-Wear a button down shirt so you don't disturb your hair when changing.
-If you are having your makeup applied here, please come with a clean face, making sure all eye makeup is removed. We will be using Jane Iredale Mineral Cosmetics, available for your purchase that day.
-The best way to guarantee you will get the hair style you want is to book a pre run and have your style done prior to the wedding day.
-You may also choose to come in for a complimentary 15 minute consultation to establish the style you want for the day of the wedding. Whichever option you choose please inform the receptionist to aid us in scheduling your time.
-Pictures are always helpful. If you have photos showing the style you like, please feel free to bring them.
-Make sure to bring all your hair accessories with you on the day of your pre-run. Example: Veil, tiara and decorative clips or pins.
-All bridal parties require a 1/2 down deposit. Please be advised of our 48 hour cancellation policy. If we do not receive 48 hours notice the cost of the service will be deducted from the deposit.
Pre-Wedding Consultation – Free
Have a conversation and getting to know your stylist. Please bring pictures, ideas, wedding dress pictures, colors that way we can best advise you on your look.
Trial Run – $95
Get a sneak peak on what your hair will look like on the big day.(highly recommended )
Your stylist will create and design the look for that big special day.let the metamorphoses begin.
The Big Day
Day of Bride – $120
Brides Maids – $95
Short hair blow dry – $45
Medium to long hair blow dry – $55-$65
*note down style with curls or half up half down is considered an updo
We do require a 50% deposit two months before the wedding for a party of four or more.
Call us today at 1-877-908-5470!