At Salon Cartier, we've fallen in love with the products from Ouidad! We are now Walnut Creek Ouidad hair stylist experts.
Did you know that almost half the population has wavy or curly hair? Now we have the products and the skills to help style all of that curly hair!
If you've ever had challenges getting your curly or wavy hair looking just right, we can help!
Ouidad products are amazing at helping anyone with curls to get the best look ever.
Walnut Creek Ouidad Hair Stylist
In fact, as a salon, we all went through a training from some of the pros at Ouidad and two of our stylists even got certified for cutting!
Take a look at our own Robert and Julie standing proud with their certifications! They can not only show you how to use the Ouidad products but also cut and style your hair accordingly.
A Ouidad haircut is a specialized cutting technique with internal layers in the hair to create movement while maintaining length to the hair.
As part of the haircut, we employ a special shake and rake styling technique. This process can take up to two hours. That said, it's well worth the pampering for your curly hair!
Check out some of our training before/after photos!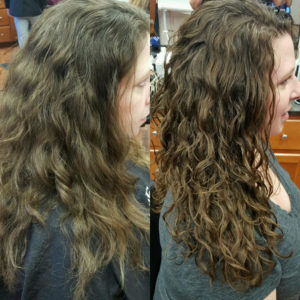 As always, if you have any questions about what hair product is right for you, be sure to ask us!
For more info about Ouidad and how it can transform your curly hair today, call us today at Salon Cartier or Book Online Here!
Call Today 1-925-939-7425
::